Course details
Popular !! 【Hosoi net grilled SUSHI】 + 100 minutes [Drinking] with petit full course 5000 yen → 4000 yen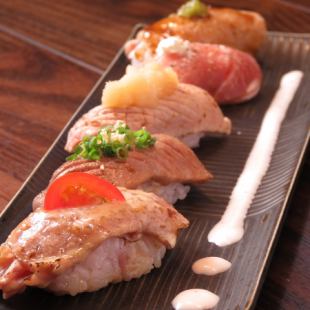 By using a coupon4000 yen
All-you-can-drink available

All-you-can-drink 100-minute system.(Last order: 80 minutes)
Reservation deadline

Until 23 o'clock the day before the store visit date
Available days for reservation

Tuesday, Sunday, Public Holiday, Holidays
A delicious little bowl of delicious KOOBACHI can enjoy 15 ♪ It is a very good course, where each dish is pleasant and super recommended hoso pig netted grilled SUSHI will enjoy it !! * Dessert will be offered only by women.
Course menu
[4 vegetables]
· Dust !!
·potato salad
· Deep-fried sweet potatoes
· Eggplant cooked in the countryside
[Meat 3 items]
· Boiled beef steak
· Sweet vinegar from paste
· Pork tomato paste
[4 fish items]
· Kim Fugu Yubiki
· Rainbow trout seaweed
· Sweet tempura
· Postgraduate Course
* Season fish carpaccio
* Beef Lamp Meat Steak
★ Yoshigato net grilled SUSHI (loose, peach, rose, raw ham)
* Dessert ※ Only women will be offered.
* Since we are using the season of the day, contents may change.
All-you-can-drink menu
·beer
· Draft beer (small · medium) / bottled beer
· Shochu / Japanese sake
· Wheat · potato · yuzu / chilling · hot soup
· Super carbonic acid highball
· Cassis · Tea
·Cocktail
· Cassis (Orange / Oolong / Milk etc) · Dita (Orange / Grapefruit / Oolong) · Matcha (Oolong / Milk) · Fuzzy Group · Peach (Oolong · Milk)
·Fruit wine
· Plum wine / kiwi / blueberry and strawberry berry berry / pine / Wenzhou oranges / La France / bananas / apple / thigh / yuzu
·wine
· Glass wine (red · white)
·sour
· [Tipsy Sour] White Sour / [Tipsy Sour] Ice Tea Sour / Lemon / Grapefruit / Plum / Cassis / Lime
·Soft drink
· Apple juice · grapefruit juice · orange juice · oolong tea / coca cola / giraffe lemon / ginger ale
Coupons that can be used with this course
2018/11/16 update