DETAIL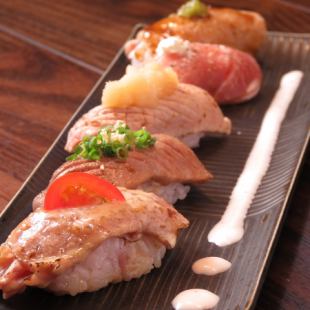 Super recommended !! 【Yoshigao net grilled SUSHI】 + 100 minutes [drinking] with attached petit full course 5000 yen → 4000 yen
4000 yen
A delicious little bowl of delicious KOVACHI can enjoy 15 ♪ It is a very profitable course, where each dish is pleasantly surprised and super-recommended hoso-pored netted grilled SUSHI makes you enjoyable !! ※ Desserts will be offered only by women.
Menu
[4 vegetables]
· Dust !! Giveaway
·potato salad
· Deep-fried sweet potatoes
· Eggplant cooked in the countryside
[3 items of meat]
· Boiled beef steak
· Sweet vinegar from paste
· Pork tomato paste
[4 fish items]
· Kim Fugu Yubiki
· Maiden's sake
· Sweet tempura
· Postgraduate Course
* Season fish carpaccio
* Beef Lamp Meat Steak
★ Yoshigato net grilled SUSHI (loin, peach, rose, raw ham)
* Dessert ※ Only women will be offered.
* Because we are using the season of the day, contents may change.
Coupon that can be used
Super profit !! 【Yoshihisa SUSHI】 +
1 person 15 items ★ 100 minutes [Drinking] with petit full course 5000 → 4000 yen

Presentation conditions

At the time of reservation (OK on the day) [A word to see hotpepper]

Conditions of use

2 people ~, other tickets and coupons can not be used together, 【【The last order of all you can drink: 80 minutes】】

Expiration date

Until the end of October 2017